Editors-in-Chief
Jianzhong Hu, MD, PhD (Orthopaedics)
Xiangya Hospital, Central South University
Jianzhong Hu, professor of Spine Surgery, chief physician and doctoral supervisor, is currently a vice-president of Xiangya Hospital, Central South University.
Professional affiliations of Prof. Hu include: committee member of spine surgery group, Chinese Orthopaedic Association; executive director in spinal injury of International Spinal Cord Society and China Association of Rehabilitation of Disabled Persons; vice chairman of specialized committee of orthopedics, Hunan Medical Association; vice chairman of specialized committee of spine and spine cord injury, Chinese Association of Rehabilitation Medicine; expert group member of Hunan Minimally Invasive Orthopedics Expert Group; contributing editorial board member of "Chinese Journal of Experimental Surgery"; editorial board member of "Chinese Journal of Bone and Joint Injury"; and editorial board member of "Chinese Journal of Minimally Invasive Surgery".
During his 26-year career as a doctor, teacher, and researcher in the field of orthopaedics, Dr. Hu has accumulated rich experiences and gained many achievements in the research and management of diseases including cervical, thoracic and lumbar disc degeneration, spine and spinal cord injury, spinal tuberculosis, and spinal deformity. In 1995, he joined a medical team in Zimbabwe as an orthopedic expert. He went to Linkon Clinical in Hamburg, Germany and AO Research Centre in Davos, Switzerland for further study in 2004 and 2005 respectively. As the academic and business leader, he actively promoted the application of new technology in clinical practices. He introduced the use of Tennor internal fixation with pedicle screws for the systemic treatment of spinal fracture in Hunan; adopted the improved anterior-posterior approach to treat the odontoid deformity in basilar invagination by cooperating with neurosurgeon; carried out interventional intubation surgery to treat intervertebral space infection and pyogenic rachitis; adopted expansive joint to do with revision treatment of post-operation of total hip joint replacement with infection; took the lead in Hunan province in carrying out artificial cervical disc replacement to treat herniated disk, especially in bi-articulate replacement. All these techniques achieved satisfactory effectiveness. Prof. Hu has been invited to give lectures on their experiences in academic conferences held in national and provincial conferences and their achievements have been widely recognized.
Prof. Hu has a great attainment on basic research of acute spinal column injury, osteoarthritis, nanometer artificial material for bone regeneration, titanium alloy artificial joint, and artificial lumbar intervertebral disc replacement. He has been invited to give lectures in international conferences including American Academy of Orthopedic Surgeons annual meetings and North American Spine Society (NASS) annual meetings to share his scientific findings with international peers. In recent years, his research has been supported by the National Natural Science Foundation of China, State 863 Program, key research projects of the Ministry of Education, and more than 30 other scientific projects ranging from international to provincial levels, with the sum of all research grant funding being 6 million RMB yuan. He was the winner of Beijing Municipal Science and Technology Progress Award (second and third prizes). Prof. Hu had cultivated more than 30 master's and 9 doctoral students. He had published more than 100 articles in domestic or international key journals, with more than 30 articles in Pubmed-indexed journals. He is also the chief editor or chief translator of 8 academic works. He has won 3 national invention patents. He was awarded as "Advanced Individual of Hunan Province for Foreign Aid for 30 Years", and was listed in the "New century 121 Talent Project" of Hunan province.
His main research interests include: neck and shoulder pain, low back pain, spondylosis, spinal trauma, spinal tumors/tuberculosis, and cervical and lumbar artificial disc replacement.
---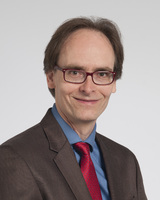 Paul Schoenhagen, MD (Cardiovascular imaging)
Cleveland Clinic, Ohio, USA
Professor Paul Schoenhagen, MD, is a staff physician in the Department of Diagnostic Radiology and in the Robert and Suzanne Tomsich Department of Cardiovascular Medicine at the Cleveland Clinic in Cleveland,Ohio, USA. His particular clinical interest is focused on cardiovascular imaging with computed tomography and magnetic resonance imaging for coronary and aortic disease.
He received his medical degree from the Karls-Universitaet, Tuebingen, and doctoral degree from the the Philips-Universitaet, Marburg, Germany. He received clinical training in Stuttgart, Germany and at the Cleveland Clinic, where he assumed a staff position in 2003.
Dr. Schoenhagen has been honored for his clinical research, which has focused on the implications of plaque vulnerability, intravascular ultrasound research and the application of computed tomography and magnetic resonance imaging for atherosclerosis research.
He has published numerous original and review articles in leading peer-reviewed journals such as the Journal of the American Medical Association, Circulation,the Journal of the American College of Cardiology, and the European Heart Journal. Dr. Schoenhagen is the author of textbook about Coronary Intravascular Ultrasound Imaging, Cardiovascular Computed Tomography, and Acute Aortic Syndromes. Further, he has contributed to numerous chapters in medical textbooks related to his specialty interests. He has been invited to present his clinical experience and research at conferences in Japan, China, Europe, Australia, and North America.